TDI and READING with KIDS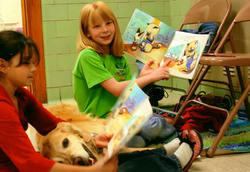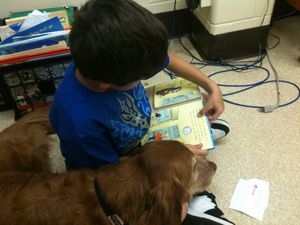 The Wheatland Golden Retriever Club of Wichita, Inc. took on this project headed by Dayna Boso, WGRC member and Laurie Mercer, 5th grade teacher at Spaght Academy. The program was started in the fall of 2003 at Spaght Academy. The program then moved to Adams Elementary for the 2007-2008 school year, Beech Elementary for the 2008 -2009 school year, and will be staying at Beech Elementary for the 2009-2010 school year.  Currently there are 5 teams that participate in this program.
This program was modeled after another reading program which is designed to enhance children's love of reading through the use of therapy animals and hopefully lay the foundation for a lifetime of learning.
The dogs make a wonderful vehicle for communication as the kids read to their dog partner once a week for 20 minutes. Teams are usually there for 60 minutes with each child reading to the team for 20 minutes at a time each.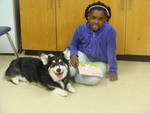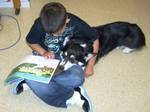 The kids look forward to reading instead of dreading it, as the dog's don't laugh, tease or judge them if they have any difficulty. This helps to build and raise a child's self esteem.
It is really neat when you go into the school with your dog and the kids ask if this dog is so and so and they ask if they can pet the dog and then they go on to tell you that they would like to read to the dogs. Teachers will also stop you in the hall and ask if we need any more students, just to let them know.
If you are interested in becoming a TDI reading team at Beech Elementary, 1830 S. Cypress, Wichita KS, please contact Dayna Boso with the Wheatland Golden Retriever Club at 684-4780.
We look forward to hearing from you!